Dear friends and partners, greetings in the name of our Lord and Savior Jesus Christ.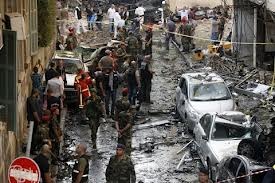 On Friday, October 19th, Lebanon was once more victim to a terrorist attack when a car exploded in a very narrow residential street in Ashrafieh – an area of the capital Beirut mostly inhabited by Christian families. The 30 kg of TNT resulted in the assassination of the head of the Information Branch of the Internal Security Forces and his assistant, whose bodies were completely torn in the blast. The bomb exploded at a peak hour when children were returning home from school, many employees returning from their work, or people were running errands. The level of destruction is unbelievable; and as a result, families lost loved ones, casualties are lying in hospitals, and some of them are in a critical condition. The buildings in the street where the tragedy took place were badly damaged. This is a catastrophe especially that all of these families belong to the lower middle class or middle class and 90% are uninsured. Over and above, the country lost a very important official who had dedicated his efforts in the past few years of service to resisting and fighting terrorists who have been relentlessly trying to enforce disasters on Lebanon.
We feel sad, outraged, afraid, and angry. As humans we cannot help but have these feelings. This is the first such act in four years. We thought our country had turned a new page, yet once again evil hands are back to haunt us. However, our eyes are on the Lord. We shall not despair. We refuse to lose courage, but instead, we lift up groaning hearts to Him, knowing that He hears our supplications and answers our prayers.
I share this with you seeking your prayers for our country and people. Please pray for
Peace in Lebanon; that the Lord may keep our beloved country and people safe from all evil plots
The families that were directly affected by the blast
Our national and political leaders, that they may learn to coexist and work for the best interest of our country irrespective of their beliefs and despite their differences
The safety of our students as they commute to and from school
The safety of our staff – including foreign workers in our respective ministries
Us – that we may continue in the work that the Lord has called us for in Lebanon and the region, with all enthusiasm no matter what.
God forbid that Lebanon and the Lebanese should once again go through the horrific days of the past. We count on your prayer support.
In His grip,
Nabil Costa