The massive blast that took place at the port of Beirut late in the afternoon August 4 left an important part of the city laying in apocalyptic ruin. The explosion was felt all the way to Cyprus. Many have died or been injured.
Will you partner with us to help the suffering and strengthen the church in this time of urgent need?


Ways to Give
You can give by wire or ACH transfer, sending a check (preferable for larger gifts) to our office below, or by giving online using the form to the right! Please contact Linda if you need any assistance: lmartinez@mebo.org
MEBO
1633 Mt. Vernon Road, Suite 300
Atlanta, GA 30338
Here's a summary of what's been accomplished through Oct, 2020: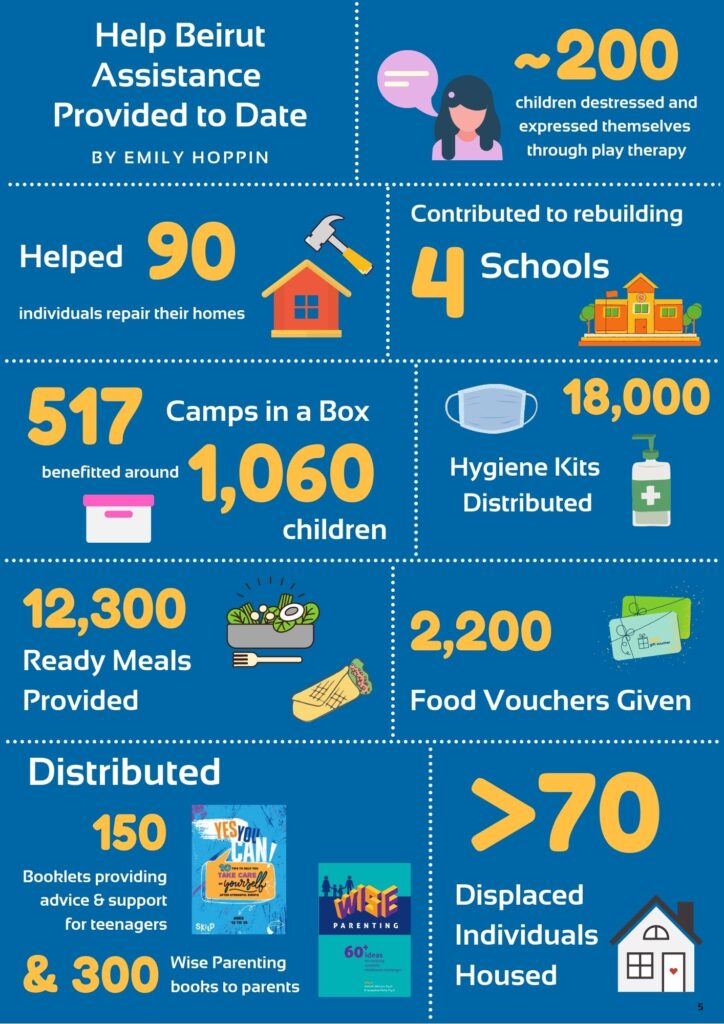 So much is left to do, but your generosity has empowered the church in Lebanon to provide food, shelter and medical assistance to hundreds of families along with many other forms of aid. Here's a video update from September 2, 2020 with more details:

The MEBO/LSESD family of ministries is already assisting, through our local church partners, those affected by the disaster with emergency food, hygiene and shelter. Rehabilitation of homes and building repair for our school and Christian bookshop as well as local churches will be a massive undertaking and needs to start as soon as possible as 300,000 individuals have lost their homes and schools were due to go back in just 3 weeks. The Arab Baptist Theological Seminary with the support of MERATH is hosting many of those who've lost their homes.
Your donations will go directly to assisting those affected and in so doing, will strengthen the witness of the Church in Lebanon and help alleviate suffering for hundreds of people.
This calamity could not have come at a worse time for a country on the brink of financial collapse and social implosion while the number of coronavirus cases have surged in recent days. Our family of ministries is well positioned to help those affected by the disaster. Would you consider partnering with us?
Here's a video update from August 19, 2020:

Listen here to LSESD's Chief Operations Officer Wissam Nasrallah's interview on Mission Network News.
Will you pray with us?
Please pray for those who have lost their homes and loved ones so that they may find comfort and healing.
Please pray for the doctors, nurses and paramedics who are caring for the injured.
Please pray for the rescue teams that are trying to find missing family members and neighbors.
Please pray for people who are in places of responsibility as they manage the catastrophic human and economic consequences.
Please pray for the Church as it seeks to comfort and serve the distressed and brokenhearted.
Please pray for the People of God as they seek the Lord and humbly cry out to Him for mercy.
Pray for LSESD/MEBO family of ministries and in specific for the Beirut Baptist School and the Gateway Bookshop, which suffered important material damage and for the staff who have been injured by the glass debris.
Video update from August 5, 2020, the day after the explosion:
ABTS Seminary Guest House hosting Families who lost their homes
The crew at ABTS is busy preparing all their guest rooms and student housing to host families that their homes were destroyed in the blast. They were already hosting Medical first responders due to the pandemic and now expect to host 30-40 additional families. Your donation will help to prepare all the rooms/units with the basic necessities that the families would need upon entry including meals for the families.
Damage in the Beirut Baptist School classrooms and chapel
The Gateway Bookshop's windows were blown to pieces by the explosion