August 24, 2015
Ashley al-Saliby
BEIRUT: Fifty-three high school graduates walked across the stage on July 3rd amidst the lights and sounds of a state-of-the-art graduation ceremony, marking the culmination of years of rigorous and rewarding education at Beirut Baptist School. The event, solemn and celebratory, was an appropriate recognition of what they had worked so hard to achieve.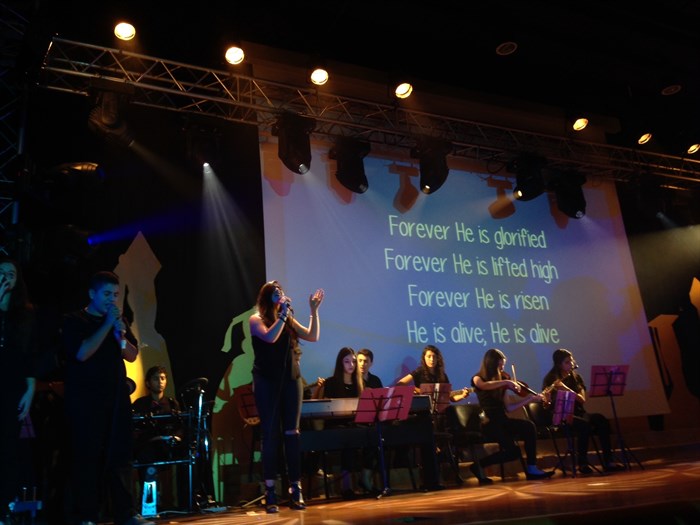 Students of the Beirut Baptist School sing and play instruments during the senior graduation ceremony on July 3. (Photo: Alia Abboud)
It was the stuff of dreams, and not just for the graduates who had long anticipated it. The gift of education fills the dreams of Syrian refugee children in Lebanon, as well. A mother of children enrolled at the True Vine education project in Lebanon's Bekaa Valley commented that after coming to Lebanon as refugees, her children asked, "Why are we here? Why did this happen to us?  Why aren't we in school?"  For her children, going to school became "like a dream."
If you're a child longing for education, in many ways Lebanon is the place to be! Lebanese society cherishes education, and the small country was in recent years ranked 10th out of 144 countries for the quality of its rigorous education (1). However, in the wake of the crisis in Syria, Lebanon's education system has been stretched far beyond its capacity. Elias Bou Saab, Lebanon's Education Minister, wrote recently: "During the last academic year we opened 1,000 public schools to non-Lebanese students. By using many of the buildings in double shifts, we were able to provide 106,795 Syrian refugee children with schooling. Next year, I want to go much further. I am aiming to double the number of Syrian children in our public schools to 200,000 students. This is a huge endeavor, considering that only 238,000 Lebanese students are attending public school." (2) While this goal is ambitious and compassionate, it also exceeds the resources of the Ministry of Education. Even if international funding is acquired, enabling the Lebanese government to serve more Syrian children this year than last year, it will still not adequately meet the needs of the 400,000 school-aged refugee children in Lebanon. (3)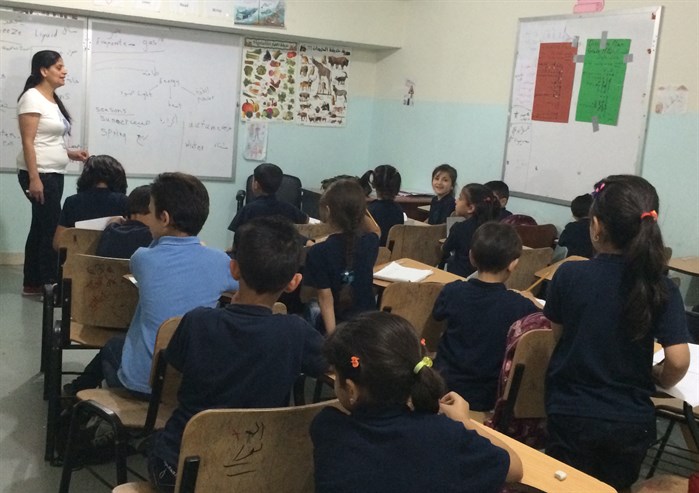 A classroom full of eager students at the True Vine alternative education project.  (Photo: Ashley al-Saliby)
MEBO's partner in Lebanon, the Lebanese Society for Education and Social Development, is committed to demonstrating God's love through the gift of education. Their organization not only serves 1,300 pre-K through grade 12 students at Beirut Baptist School, but through its Relief and Community Development efforts, an additional 300 refugee children received access to education last year at the True Vine education project in Lebanon's Bekaa Valley. Pastor Jihad, who oversees this ministry, highlights the extent of the need among Syrian refugees. "There are about 3,000 children amongst families that we are serving that are not going to any schools.  We are concerned that these children are very vulnerable. This is what breaks our hearts." Because their church facilities cannot host more than the two shifts of students they serve each day, they are hoping to launch a new plan in the coming months. The ministry's hope, according to Pastor Jihad, "is to have tent schools for the school age children in these families" for the upcoming 2015-2016 school year.
Near one of Lebanon's other borders, the team at a "Child Friendly Space" supported by LSESD's Relief and Community Development department works hard to provide another alternative for refugee children. Although this team does not have the resources or facilities to launch an education project on the same scale as True Vine, children can come once a week to the center to receive lessons in Math, French, and English. Through these faithful efforts, refugee children are experiencing God's love. Even with very limited resources, many local churches in Lebanon are doing remarkable work to serve the refugee children who dream of the privilege of education. MEBO and LSESD are committed to supporting these churches in this important work of restoration and hope, and we encourage you to partner with us!
(1) World Economic Forum. "The Global Information Technology Report 2013." http://www3.weforum.org/docs/WEF_GITR_Report_2013.pdf. (Retrieved August 5, 2015).
(2) The Daily Star. "Lebanon Needs Help in Educating Syrian Refugee Children." http://www.dailystar.com.lb/Opinion/Commentary/2015/Jul-17/307063-lebanon-needs-help-in-educating-syrian-refugee-children.ashx#.Vaxn01nqwAc.facebook. (Retrieved August 6, 2015).
(3) UNHCR. "The Number of Syrian Refugees in Lebanon Passes the 1 Million Mark." http://www.unhcr.org/533c1d5b9.html. (Retrieved August 5, 2015).