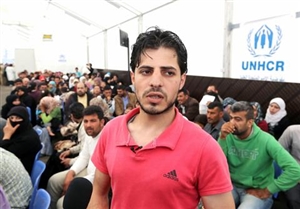 TRIPOLI, Lebanon: Behind every refugee registration number is the story of a life that has been torn apart. Eighteen-year-old Yehya from Homs, the millionth refugee to register with the United Nations High Commissioner for Refugees, is no different. "I had no other option. I had to leave," said the young man, who insisted on using only his first name for fear of attacks on his remaining relatives in Syria. He said his family was forced to leave after life in the old city of Homs became a matter of survival, dodging snipers to go to the market for food and saving money by eating one meal a day.
"I thought it would get better, but every day it got worse," he told The Daily Star as he sat on the steps of the U.N. refugee agency's office in Tripoli on a sunny morning shortly before going in to register.
Today, he and his family are living in a small apartment in the northern city, living day to day and unsure about how they will pay next month's rent. They've already sold nearly all of their gold jewelry paying taxis and smugglers for their escape via Yabroud and then through the unofficial border crossing to Arsal, which they decided to leave after the Syrian government shelling continued.
Life in Tripoli is a far cry from what he was used to before the unrest, when he would enjoy simpler pleasures such as going swimming in the summer and visiting friends. He has fond memories of school, where he excelled in math and dreamed of becoming an engineer, a career choice inspired by his father who worked as a carpenter.
He hesitated to say that life was "better" back then, however, and was quick to emphasize that there was no freedom before the uprising either. His father took part in protests, he said, and was one of the early fatalities of the government's crackdown on initially peaceful demonstrators who called for Syrian President Bashar Assad to step down.
The young man, barely an adult, now carries the responsibility of being head of his household. He was joined at the registration center by his mother Khaldieh and two sisters Nuha and Manal, all neatly dressed for the occasion, as a UNHCR representative registered their details and took their pictures. The UNHCR used the 1-million milestone to raise awareness of the plight of Syrian refugees in Lebanon, inviting the media, non-governmental organization workers and Lebanese government officials to the center.
"We're trying to do our best, but it's not enough," Ninette Kelley, resident representative for UNHCR in Lebanon, told dozens of visitors. "There aren't enough resources. We make difficult decisions every day."
She pointed to Lebanon's dubious distinction as hosting the world's highest number of refugees per capita alongside an indigenous population of around 4.1 million. Unofficial estimates put the number much higher – at roughly 1.5 million. The unprecedented influx has strained the small country's already weak infrastructure, from waste disposal and water to electricity and health care.
Echoing Kelley's frustrations, Alice Shabtini, Lebanon's new minister for the displaced, pleaded for more resources to deal with the crisis.
"This guy is 18 years old. He's the 1 millionth Syrian refugee in Lebanon. He's been out of school for three years. He doesn't know what he'll do today or tomorrow. We need resources to help refugees," she said. "We can't do this alone."
The need for an increase in humanitarian assistance is more urgent today than ever, aid workers say. As the conflict in Syria continues into its fourth year, the living conditions of most refugees, particularly the children who account for around half of the influx, continue to deteriorate.
"What we have are children who are in far worse condition than the ones who arrived three years ago," said Annamaria Laurini, UNICEF representative in Lebanon. "With the increasing numbers, there are increasing needs."
Leaving the registration center, Yehya fielded questions from reporters and aid workers alike while protectively escorting his mother and sisters, who looked at him with admiration.
He said he planned to continue his education in the coming school year. When The Daily Star asked his sisters, who had remained quiet for much of the registration process, to talk about what they did, they shrugged, saying they simply stayed at home.
"No, tell her what you really do," Yehya urged his sisters, after which Nuha admitted with a shrug, "We're seamstresses. We started our own embroidery business. We make everything."
After the chaos of the day had died away and most of the news conference guests had gone home, Yehya went to hail a taxi for him and his family. When asked where he was going now, he looked past the gates of the registration center and said, "We're going home."
For now, that home is in Lebanon.
April 04, 2014 12:54 AM
By Brooke Anderson
The Daily Star
Read more: http://www.dailystar.com.lb/News/Lebanon-News/2014/Apr-04/252268-tragic-milestone-lebanons-millionth-refugee-registered.ashx#ixzz2xuYOg35A
(The Daily Star :: Lebanon News :: http://www.dailystar.com.lb)