April 1, 2016
Ashley al-Saliby
BEIRUT: It was a beautiful way for two worlds to meet, as lifetimes of vision, intention, experience, and compassion joined hands near the shores of the Mediterranean Sea. The diverse group of American visitors were eager to learn and observe, to meet up joyfully with dear friends or finally put names with faces. Their Lebanese hosts were eager to introduce the first-timers to the charms of Lebanese culture and welcome back cherished partners in ministry. They were also prepared to offer all of them glimpses of the vast work ongoing on diverse fronts, to expose their guests to both the challenges and opportunities facing them in this moment in history.
These encounters took place as the MEBO Board of Trustees gathered in Lebanon in early March for their semi-annual meeting. Although MEBO's partner in the Middle East, the Lebanese Society for Educational and Social Development (LSESD), is headquartered there, this unprecedented gathering was the first time the US-based board has met on-location. Rev. Stan Scroggins, who serves as Music and Missions Pastor at First Baptist Church of Magnolia, Arkansas and also as chairman of the MEBO Board, has dreamed for years of this special in-country meeting of the Board. As someone who has visited Lebanon many times over the past twenty years, he knows well the impact of time spent in this unique place.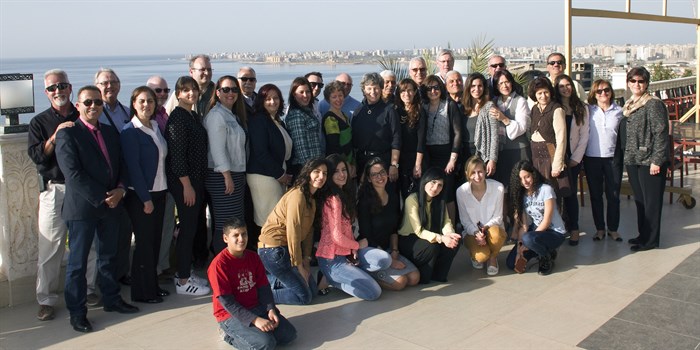 MEBO Board members, LSESD staff, and friends of the ministry shared a lunch together overlooking the Mediterranean. (Photo: Martin Evans)
The trip was characterized by infamous Lebanese dining experiences – generous, delicious, and seemingly unending – and by night walks through the streets of Byblos and Beirut, allowing the group to experience the blend of old-meets-new that is only found in those ancient cities that have endured much and yet embrace a new day. The week of visits to ministry locations and meetings with various leaders included grateful amazement as the American visitors witnessed the breathtaking, almost-finished sensory room, the culmination of a long-term dream that will uniquely serve children with special needs at the SKILD Center. Yet it also included sober moments, as they gathered in a private home with Lebanese friends who have learned forgiveness and witnessed redemption after enduring horrific violence, or as they huddled in the tents of refugee families, sipping tea and listening to the grim retelling of tragic journeys. There were inspiring conversations with students of the Arab Baptist Theological Seminary who shared their visions to return and apply the training they have received in their diverse home countries across the Arab World. Again and again, the MEBO Board members and friends found themselves encountering leaders whose passion is contagious, like Sawsan Tannoury, Publishing Manager of the Christian publishing house Dar Manhal al Hayat, or impressed by the way Beirut Baptist School is laying fresh life and successes on the foundation of an enduring legacy. And each visit, tour, or meeting was characterized by an unmistakable earnestness, perhaps most visible when the team would pause and pray in the closing moments of each encounter.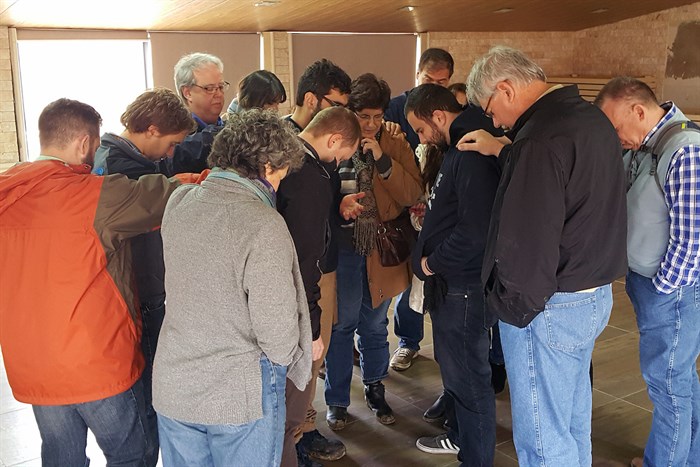 The board members were intentional about pausing to pray for each group or leader they interacted with during the trip. (Photo: Martin Evans)
All of these powerful moments accumulated to form the visitors' analyses of a remarkable organization doing unprecedented work in the Arab world. Several board members commented on the uniqueness of MEBO's partner, LSESD, after considering the scope of what they had observed during the trip. Dr. Carolyn Bishop, who serves as President of the Consortium for Global Education and has been on the MEBO board for 6 years, pointed out that LSESD meets needs from a "whole person perspective, directing organizational programs toward physical, intellectual, linguistic, and special education needs. Many organizations meet different needs, but at LSESD we observe a uniquely systematic, integrative approach." She also noted that "LSESD consistently brings what they're doing back to the main focus and purpose of the organization, which is to demonstrate Christ's love."
The caliber of LSESD's Lebanese leadership also drew comments from the group. Dewayne Jeffries, a MEBO Board member who serves as Executive Pastor of Sunnyvale First Baptist in Sunnyvale, Texas, shared that his first trip to Lebanon left him "blown away by the LSESD team." Dr. Bishop observed the genuineness of the staff and the fruit of their dedication, seen in the growth of each ministry in the LSESD family. Tim Stuckey, a MEBO Board member and small business owner from Lima, Ohio, commented, "As a businessman, I have watched this organization continue to mature. It is the real deal!" The encouragement was mutual, and led LSESD's Executive Director Dr. Nabil Costa to share, "the LSESD staff truly feels that we are one team after the MEBO Board's visit."
LSESD's impact in the region, beyond their primary focus in Lebanon, was also noted by the visiting MEBO Board members. Rev. Scroggins expressed that, "in the midst of the board's diversity, we all recognize the strategic nature of the ministry in Lebanon and in the region, and the expanding influence of LSESD" internationally. Dr. Bishop referred to this growing impact as LSESD's "voice" and noted that it implies a "responsibility" for both the LSESD leadership and the MEBO board in their role as representatives of LSESD's work. Specifically, she pointed to Dar Manhal al-Hayat, LSESD's publishing house, the SKILD center in its groundbreaking work advocating for children with special needs, and the Arab Baptist Theological Seminary as impactful outside of Lebanon.  "They use their expertise to equip other organizations and leaders from around the region," she said. "This wisdom to invest in others and reproduce themselves demonstrates a selflessness that is indicative of true ministry."
For the MEBO Board members, this trip was one episode of ongoing relationships that have been – or for the first-time guests, now will be – cultivated for years. Dr. Brenda Richards shared that "the gift of friendship I have received through being a part of ministry in Lebanon is one I will always cherish.  Since education is my focus when I go, I especially have enjoyed working alongside of Lebanese friends at BBS and helping with SKILD initiatives. The last three times I have gone to Lebanon, I have been blessed to have the opportunity to help at the True Vine education project for Syrian refugee children. The friendships I have now with the Lebanese and Syrians who work there are a cherished part of my life."
MEBO is honored to continue to advocate for the fruitful and groundbreaking work of our partner, LSESD, in Lebanon. To join with us through prayer support, financial support, or to inquire about visiting Lebanon yourself to observe the work that God is doing here, contact us.