January 18, 2016
Authored by The Institute of Middle East Studies Team at the Arab Baptist Theological Seminary
BEIRUT: The Church in the Middle East is experiencing a time of unprecedented change. There exist significant challenges, and yet at the same time unimaginable opportunities. In response, the Institute of Middle East Studies at the Arab Baptist Theological Seminary in Beirut, Lebanon is pleased to announce its 13th annual Middle East Consultation, June 20th to 24th.
The current refugee crisis, triggered to a large extent by the ongoing war and instability in Syria and surrounding countries, has provoked a wide range of reactions in diverse contexts. The local Church has frequently sought to respond in prophetic and Christ-like ways to the new realities before it. And in the process, many churches have been thoroughly transformed as they welcome into their midst those who would have been traditionally considered 'other'. In Europe, many churches are exploring creative ways of demonstrating hospitality to their new neighbors. Around the world, the refugee situation has become a highly politicized discourse requiring the church to respond with Kingdom mindedness.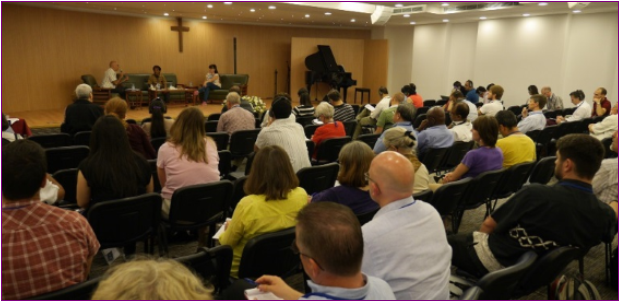 Participants in the 2015 Middle East Consultation Listen to a Panel Discussion (Photo: ABTS)
MEC 2016 will explore the long-term implications of the significant number of refugees from non-Christian backgrounds who now regularly fellowship with other members of the Body of Christ. By doing this, MEC 2016 seeks to encourage healthy practices between and within different expressions of the local Church in the Middle East, Europe, and beyond. MEC 2016 will be creating space to reflect on the challenges and opportunities facing the MENA Church in the present and in the years ahead that result from the demographic changes currently taking place. In addition, we will be creating the time and space for church and ministry leaders to step back and reflect not only on what God has been doing in and through His Church in recent times, but to envision the Church of the future in and beyond the MENA region.
This year we anticipate a consultation driven by our local, regional and global participants who are actively involved in ministry with refugees or committed to developing Christ-centered responses to the growing refugee crisis in the Middle East, Europe, and beyond. The consultation will include first-hand testimony by those involved in refugee ministry within and beyond the MENA region, as well as theological, Biblical, and sociological reflection on the stories being told. In doing so, we hope to explore the possible implications for the regional and global Body of Christ. In addition, practical workshops and roundtable discussion groups will empower consultation participants to further develop their own responses to the crisis. Keynote presentations will furthermore provide a solid theological framework through which to form effective, Christ-centered responses to refugee communities in diverse settings.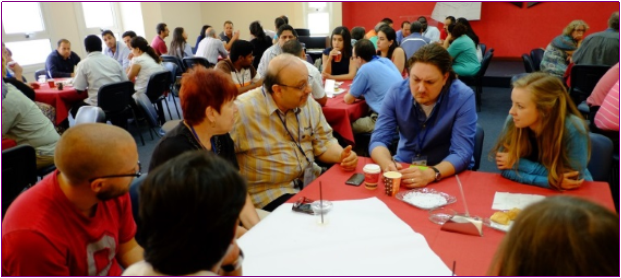 Table discussions allow participants from the West and the Arab World to discuss what they're learning together (Photo: ABTS)
"The phenomenal influx of Syrian refugees into churches in Lebanon is creating unprecedented challenges and opportunities. Not only is it having a transforming impact on the lives of hundreds of refugees, but it is also redefining the church's understanding of itself and of its mission. With the phenomenon becoming increasingly global, there is currently no forum comparable to MEC 2016, where the global church can gather to talk about all the exciting factors associated with this developing reality. Come join the conversation from 20-24 June 2016 at ABTS in Lebanon." Martin Accad, Director, Institute of Middle East Studies
Throughout MEC 2016 we will be exploring two critical questions:
From a theological, biblical, and sociological perspective, to what extent do non-Christian refugees need to be integrated into the previously-established Church?
How might a biblical expression of church – made up of new believers from non-Christian backgrounds – be fostered in such a way that it would flourish within a non-Christian context?
MEC 2016 comes at a critical time in history for the Church in the region. Furthermore, what is already happening in the Middle East has the potential to happen elsewhere. Will the Church – will our churches – be ready?
"I am so excited about the Middle East Consultation 2016. It seems to me that God is calling His church to respond in a new and prophetic ways to the refugee communities, wherever they may be found. In the Middle East churches have stepped up to the mark, in many cases rediscovering who they are called to be in the midst of very challenging circumstances. Europe is currently experiencing the largest people movement since World War II, and it is the church that is taking a lead role in advocating for the rights of these people and demonstrating God's compassion in action.  MEC 2016 will provide the opportunity to step back and not only reflect on what God has been and is doing in and through His church, but also to envision the church of the future – a church where people of diverse social and religious backgrounds find unity in Christ." Arthur Brown, Assistant Director at the Institute of Middle East Studies and MEC Coordinator
The IMES team looks forward to hearing from you and to welcoming you to what promises to be a unique a vitally important consultation.
Application, logistical information, and program updates are available here.