November 10, 2015
Ashley al-Saliby
BEIRUT: "Sometimes it becomes hard to breathe," a friend explained to me last November. She is a Syrian refugee and a young mother, and was rather casually describing her living situation to me. After a weekend of torrential rain, I had asked her about her family's circumstances. I was expecting to hear, perhaps, of struggles with a leaking roof, because I knew many of my refugee friends lived in abandoned and crumbling structures, or makeshift shanties leaning against larger buildings. I was surprised to hear the response she gave, with a resigned shrug, to my question. Her family, like several others in the villages near where I was staying, was grateful to have found a secure dwelling by renting what Americans would think of as a storage unit [1]. Equipped with a garage door at the front and a toilet near the back of a 150 square foot space, these units often make up the first floor of apartment buildings, here. They are intended to be little shops, and the garage door is manually rolled up and down when the shop opens and closes. There are no other doors or windows in these spaces. My friend explained to me, through the broken English and hand gestures that were the foundation of our relationship, that the heavy rain required them to completely shut the garage door at night to keep the water from flowing inside. But that also meant there would be no air circulating in the small space while they tried to sleep.
During the same weekend, other refugee families were even less fortunate. As the thunder cracked loudly above our village at the foot of the mountain, and the rain came for hours with blinding, unrelenting force, I couldn't stop thinking of the families that I knew lived somewhere close by. A news article the next day confirmed what I had feared. In the night, the tents of refugee families had been washed away [2].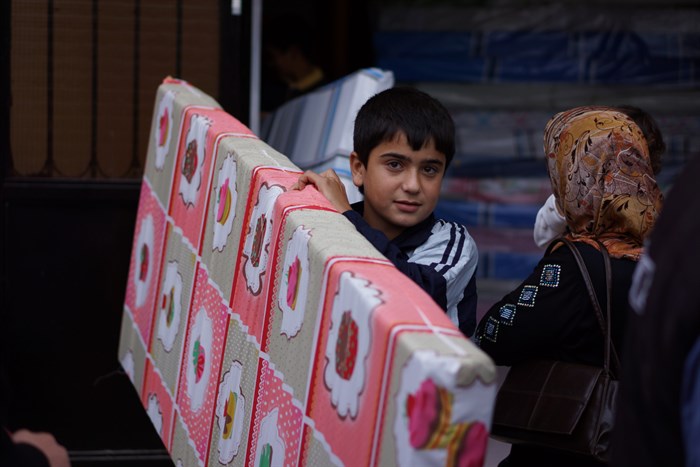 A refugee boy received a mattress from MEBO's partner in Lebanon, LSESD, that would keep members of his family off of the cold floor or ground during the winter months. (Photo: Wissam al-Saliby)
Almost one year later and several hours away, refugee families in Lebanon's Bekaa Valley are rushing to strengthen their shelters in their unofficial settlements with whatever they can find, the weather on some days hinting at the approaching torrents, ice-cold wind, and snow. Memories of last year's long, shivering, roof-dripping nights, or of the moment that the tarp serving as a roof collapsed under the weight of the snow, make them face the coming months grimly [3]. Gas cans for their simple heaters will be crucial for survival, but expensive. As a result of the ongoing cuts to the World Food Program's assistance [4], the victims of Syria's war are making choices between the needed fuel to heat their makeshift dwellings, or food. This is what the statistics look like in the day-to-day lives of real families, when we read that 70% of Syrian refugees in Lebanon live below the poverty line [5].
MEBO's partners in Lebanon, the Relief and Community Development branch of LSESD, have faithfully served refugees the last several winters and are preparing to meet the same needs again this year. The local churches through which the relief is distributed understand the winter conditions, because they live here. They know what refugee families have to prioritize and are most desperate for, because they interact with them on a daily basis. They are in the ideal position to meet these urgent needs in the wisest possible ways and, unlike international relief organizations, Christ-followers in Lebanon are serving those who have arrived in their own neighborhoods. Their desire is to keep serving them with enduring mercy. Last winter, our partners provided 925 families with winterization packages. These gifts consisted of fuel vouchers with which families could buy a gas can to heat their dwellings at night, as well as blankets and sometimes simple mattresses to help insulate them from the cold. Our partners at LSESD are gearing up to distribute the same items in the coming weeks and months, but this is dependent on the arrival of financial support. You can join their efforts through local churches to show enduring mercy to refugee families this winter in Jesus' name.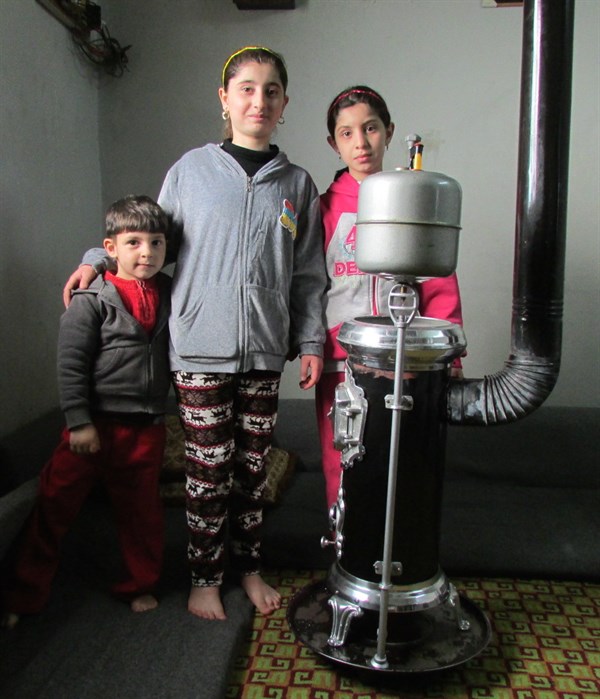 A Syrian refugee family received a fuel-burning stove from LSESD that would mercifully heat one room during the icy winter months. (Photo: Anonymous)
[1] "Unlike Jordan, Iraq, and Turkey, there are no refugee camps in Lebanon. Instead, half of the refugees live in rented housing, while the other half are in nomadic camps or hosted by families or local communities." Migration Policy Centre at the European University Institute, "Syrian Refugees: A Snapshot of the Crisis – In the Middle East and Europe,"  http://syrianrefugees.eu/?page_id=72.
[2] The Daily Star, "Refugees Evacuated After Heavy Rains Flood North Lebanon," http://www.dailystar.com.lb/News/Lebanon-News/2014/Oct-18/274544-refugees-evacuated-after-heavy-rains-flood-north-lebanon.ashx#axzz3GUqKwZ9Q.
[3]The Daily Star, "Refugees Prepare for Winter at Feverish Pace," http://www.dailystar.com.lb/News/Lebanon-News/2015/Nov-03/321346-refugees-prepare-for-winter-at-feverish-pace.ashx.
 [4] World Food Program, "Executive Director Implores Global Community to Continue to Support Syrian Refugees," http://www.wfp.org/news/news-release/wfp-executive-director-implores-global-community-continue-support-syrian-refugee-0.
[5] New York Times, "UN Funding Shortfalls and Cuts in Refugee Aid Fuel Exodus to Europe," http://www.nytimes.com/2015/09/20/world/un-funding-shortfalls-and-cuts-in-refugee-aid-fuel-exodus-to-europe.html?_r=0.