May 26, 2016
Ashley al-Saliby
BEIRUT: Safety, danger, risk, fear, opportunity, purpose and calling: words and concepts that swirl powerfully around the choice to travel to a place considered to be more volatile than our own homes. The opportunity to go, to engage the unknown, to accept vulnerability far from home presents a complex matrix of perspectives and priorities for an individual to navigate.
For many in the West considering a trip to the Arab world, the honest question is, "Why go? Is it safe? Why take the risk?" But, just as compelling, come deeper questions: "Why would we fear?" and "What does it mean to follow Christ in a world that isn't safe?"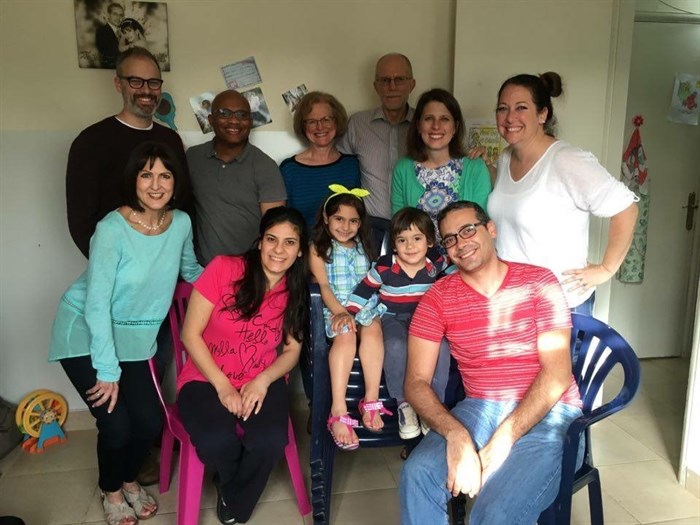 The seven members of the U.S. team, representing churches from St. Louis and Houston, spend time with students at the Arab Baptist Theological Seminary. (Photo: Rose Khouri)
Within minutes of sending out the email explaining his work absence and scheduled trip to Lebanon, John shared, "a coworker was at my office door, asking if he could talk me out of the trip." His wife Joy had similar experiences when people in her life found out where she was planning to go. "Every person expressed concern. Their first responses were about our safety."
John and Joy Zeigler are from Houston, Texas and were part of a small group from Grace Presbyterian Church in The Woodlands who travelled to Lebanon on a vision trip this April. The concern expressed by their friends and loved ones is a common theme for many who decide to travel here. The hesitation initially felt by two of their team members about joining the trip give voice to common fears and questions.
Laurel Stevens, who has traveled extensively and lived in Europe for several years, shared transparently that for her, "The Middle East was different. I never really wanted to go to the Middle East. It was dangerous" and, for a variety of reasons, simply hadn't made the list of places she wanted to visit.  Mike Higgins, a retired Colonel in the U.S. Army, Senior Pastor of South City Church in St. Louis, Missouri and Dean of Students at Covenant Theological Seminary also wrestled with the opportunity to join the team. "As a retired military officer," he explained, "the Middle East has always seemed unstable," and he thought of the instance in which U.S. military personnel were killed by a tragic bombing in Beirut. "But everybody around me," he continued, "my wife, the elders in our church, the administration at the seminary, thought it would be good for me to go and bring back stories about what the Church in Beirut is experiencing." He paused, and then exclaimed, "I had never put the words 'church' and 'Beirut' in the same sentence before!"
And yet, one by one, each team member watched obstacles to their participation in the trip be removed. Laurel, a homeschooling mom who initially spent time praying for the trip and for others who would be a part of it, found her husband encouraging her to go and her in-laws offering to fly to Texas and watch her kids while she travelled. Mike described the factor that helped him make the decision: "I don't like to be controlled by fear," he said. "I actually went to Beirut because I was terrified, and I hated that. Some folks would call that faith. I don't know. But it gets me to where God wants me to be." For John, his concerned co-worker became a committed prayer partner for the team after listening to John share about the purpose of the trip. "People's concerns were turned into opportunities for good conversations," he observed.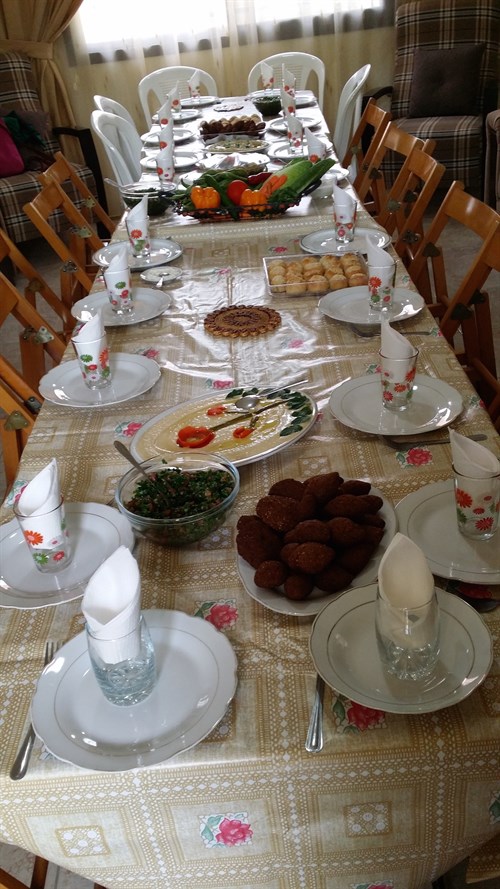 The team shared a meal with a Lebanese family after church in South Lebanon. (Photo: Joy Zeigler)
Am I Really Safer Staying Home?
A willingness to consider whether our lives at home are really as safe as we perceive them to be was a valuable thought process for members of this team.
Mike, who is currently a leader and influencer in the response of churches to the racial tensions of Ferguson, Missouri made the observation that people "in the U.S. are no less violent." When considering the statistics of crime and incarceration in America, he concludes that you may be "going to a safer place than you thought" when traveling to countries in the Arab world that have experienced war and conflict. "I think we in the West have a very mixed up idea of what is safe and what is not safe," Laurel offered. "Car accidents cause plenty of deaths, but no one says, "Don't drive."  Shootings happen in schools from grade school through university, and no one says, "Don't go to school."  Do the familiar risks of home seem more manageable and make us feel, somehow, more secure than the thought of the unknown risks far away that we hear about in the news?
John's assessment of what it means to walk in wisdom and manage risks led him to similar conclusions. "There are parts of Houston that would not be wise for me to wander around by myself! Anywhere you go, you have to be wise about what you do. Beirut is not that different from other big cities, in that respect."  Those traveling with purpose to places like Beirut, then, are not those who embrace recklesness or arrogantly dismiss the reality of danger. Perhaps they're simply those who seek to walk in wisdom and yet simultaneously decide that what they'll gain by going surpasses any potential risks.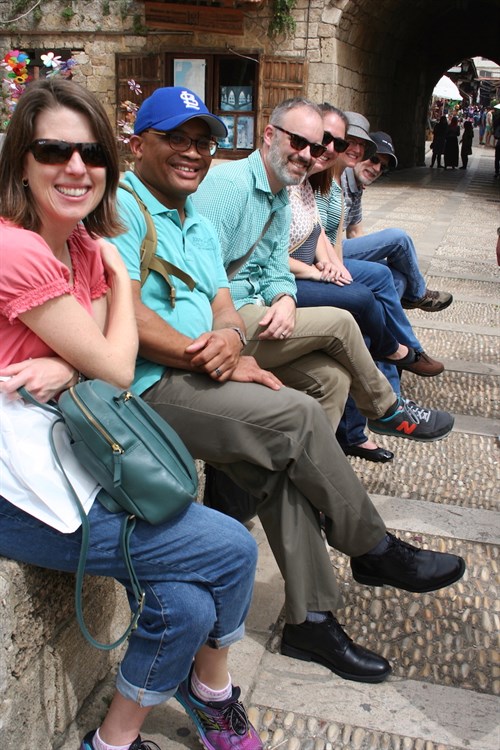 The team spent a day touring beautiful, ancient Byblos. (Photo: Suzi Carnes)
Watch next week for "Part 2" of this team's reflections about their trip to visit MEBO's partners in Lebanon, and their conclusions about concepts of safety, risk, and purpose as Christ-followers.