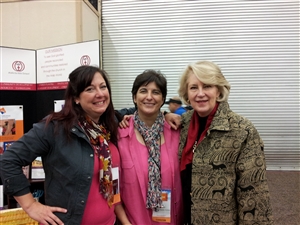 Often while sharing MEBO's story in person, we know we're among good friends. However, once in a while we feel we're among family. In late October, MEBO had the great privilege of being guest exhibitors at the Annual Meeting of the Baptist General Convention of Texas, or BGCT.* This was truly a time we knew we were among family.
MEBO Regional Development Officer Liz Crusey accompanied by LSESD Director of Development and Partner Relations Alia Abboud traveled to Corpus Christi, Texas, where we reconnected with BGCT leaders like Josué Valerio and Steve Seaberry, and made new connections with BGCT agencies, like Baptist University of the Americas (BUA) president, René Maciel and BUA professor, Dr. Mark Pfeiffer. We got to speak with our friend, Ferrell Foster, who coordinates the Texas Baptist Hunger Offering, and is beginning a new 2013 partnership with our Community Relief & Development division through a beef cattle cooperative program, serving a needy community in northern Lebanon. We were super-excited to reconnect with Brenda Sanders, who told Alia & Liz in person that BGCT's university student missions arm – GoNOW Missions – is sending a pair of Texas college students to Lebanon this summer (2-4 week Impact Team) to serve with BCYM's Vulnerable Children Camp! It was awesome to hear this news personally from Brenda!
Beyond these friends, we met so many amazing pastors and passionate lay missions leaders – it was both overwhelming and humbling. It is a beautiful thing to see all the faces of MEBO partnerships, from dear, old friends who have traveled to Lebanon countless times, to those looking for ways to connect their church families with reputable ministry in the Middle Eastern context. The Lord is so faithful – we are grateful for each and every partnership throughout the United States!
Contact us today if you would like a MEBO representative to come share at your local association, at your church, or at a state-wide gathering!
-Liz Crusey
*MEBO enjoys strong ties and sweet fellowship with churches in both Baptist Conventions in the State of Texas.