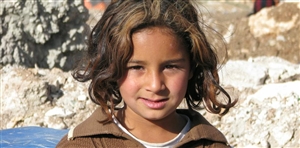 January 21, 2014 by Vanessa Mathews Hanna / Topics: International Disaster Response, Jordan/Syria Refugees, Syria Conflict Response, Syrian Refugees in Lebanon, Vanessa Mathews Hanna
Inspired by the Arab Spring that was sweeping across the Middle East in late 2010, many Syrian civilians took to the streets to protest, demanding the resignation of their President. By April 2011, the Syrian military responded with force and Syrian soldiers began firing on protesters across the country in an attempt to stamp out the uprising.
Within a few months the protests turned into an increasingly organized armed rebellion. Full-on civil war ensued. Both the rebels and the military are accused of committing horrendous atrocities, with the Syrian people caught in the middle as victims.
In the midst of this overwhelming conflict, World Renew is bearing witness to the love of Christ by providing essential food and other assistance to people who have experienced devastating trauma within Syria, as well as to Syrian refugees who have reached Jordan and Lebanon.
As with most conflicts, innocent civilians have been hurt in the crossfire. Many have died in the brutal violence, homes have been bombed, and streets have become increasingly unsafe. Desperate to escape the fighting and provide a safer future for their children, many families have left everything they had behind to flee to safer locations within Syria or even to neighbouring countries.
World Renew is responding
Within Syria, World Renew is working with the Lebanese Society for Educational and Social Development (LSESD) and the Fellowship of Middle East Evangelical Churches (FMEEC), to provide food assistance, emergency supplies, bedding, cooking tools, heating fuel, and rent assistance to 2,000 displaced families still in Syria, who have been forced from their homes by the conflict.
In Jordan, World Renew is providing food assistance to 1,000 families through its alliance with the Canadian Foodgrains Bank, and together with its local partner Arab Woman Today / Arab Centre for Consulting and Training Services (AWT/ACCTS).
In Lebanon, World Renew is working closely with its local partner the Lebanese Society for Educational and Social Development (LSESD) to provide food assistance to 1,525 households. Some families receive vouchers to purchase food in local stores, and those who are more vulnerable or who have limited access to stores are receiving a monthly food package.
World Renew is very grateful for your generosity. In the midst of this destruction and darkness, you have enabled us to reach out and shine Christ's light to people who have endured many unthinkable trials. Whatever we do for the "least of these" in our world, we are doing for Jesus. We thank you for helping World Renew share Christ's love with people of Syria through World Renew.
Please pray for World Renew as we work to meet the immediate needs and psychosocial needs of these refugee families. Please also consider supporting this effort financially.
Donate online
or send your cheques marked "Syria Conflict" to…
World Renew US
2850 Kalamazoo Ave SE
Grand Rapids, MI 49560
Tel: 1-800-552-7972
World Renew Canada
3475 Mainway
P.O. Box 5070 STN LCD
Burlington, Ontario, L7R 3Y8
Tel: 1-800-730-3490