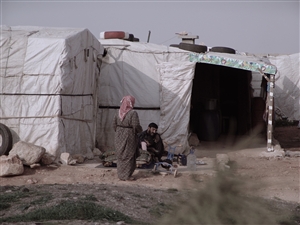 Recently, the world learned that in the month of August alone, an estimated 100,000+ Syrians fled the borders of their country. Also in August, the UN estimated that one million Syrian people were uprooted, and one million more are found in need of urgent aid. The International Red Cross and the Syrian Arab Red Crescent have provided almost 180,000 Syrians with food and other essentials since mid-July, but many, many people remain trapped in ceaseless, brutal violence. Additionally, there are now an estimated 59,000 displaced Syrians living in Lebanon alone.
We share these numbers with you to tell you that while the scope of this crisis is much too big for any of us to tackle on our own, Christ's church is more than equipped to step up to this crisis. Because of the love and hope Christians know, we are prepared to show compassion, dignity, grace and love to Syrians of all religious and ethnic backgrounds who remain in their country as well as those fleeing to safety outside it. We invite you to join us and our partners in Lebanon today. First, we invite you to pray. In Karl Barth's timeless words: "To clasp the hands in prayer is the beginning of an uprising against the disorder of the world." As believers, we are convinced that there is no greater power than the Hope of the Gospel for bringing lasting peace and justice to people's hearts, minds, families and countries. Pray for displaced Syrians and pray for your brothers and sisters risking their lives to serve the displaced.
Next, we invite you to tangibly participate today by giving to MEBO as we partner with Lebanon Baptist Aid, the relief and development arm of the Lebanese Society for Educational and Social Development. Our Lebanese brothers and sisters are working tirelessly to provide food, medical assistance, psychological assistance and temporary housing to displaced Syrians in Lebanon along with many who remain in Syria. As American Christians, this is work you and I cannot personally engage in, but we can equip our brothers and sisters to meet the needs of many hundreds of suffering people in desperate situations.
As Christians, we know God rescues people from the greatest disaster ever: spiritual death. The aim of this urgent relief work is to help restore the dignity God intended all humans to have. Please give generously because of the generous love you have been shown. Return the enclosed reply card today to help our Lebanese partners show the love of Christ to the least of these.
Critical Success Factors
Collection of $100,000 by September 30, 2012
Identification of key geographic areas where refugees have the greatest needs within Lebanon
Continued cooperation with key leaders inside Syria
Efficient and economic purchase of needed supplies
Efficient distribution mechanism
Budget
Food assistance $50,000
Housing, medical & psychological aid $30,000
Scripture & Christian material $20,000
Total $100,000