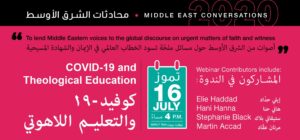 For the Church, this moment is valuable for gaining insights into how we operate in the world as kingdom-minded pilgrims seeking to maintain faithfulness during seasons of pandemic and beyond.
Due to the emergence of the COVID-19 pandemic and the new global realities of distancing and travel restrictions, this year's Middle East Consultation (MEC), originally scheduled for June 15-19, has been reimagined and a new type of MEC 2020 has taken shape: Middle East Conversations. We look forward to having you join us for monthly online webinars as we embark on an innovative MEC 2020!
The Middle East Consultation is an annual event that has gathered participants from around the MENA region and the world since 2004 to explore issues of faith by presenting insightful analysis and facilitating meaningful discussions.