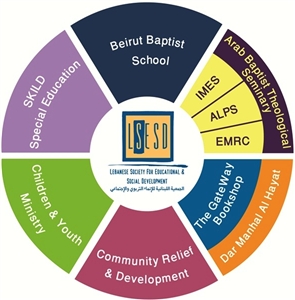 What a privilege we at MEBO have to serve our brothers and sisters in the Middle East North Africa region! As we spend time with these faithful servants of God, we are constantly in awe of how they carry themselves through so many uncertain days, always trusting the Lord to provide as they continue in their work. They know that there is much work to be done, and not even a year of political unrest stops them. Even as Syrian refugees flood across the border into Lebanon, our partners adjust rapidly to the ever-changing realities they face, seeking always to love their neighbors with the love of Christ.
Our work here is aimed at supporting them, just as Aaron and Hur held up Moses' arms (see Exodus 17). But they would be quick to remind us that this is not about them. This is about the students at the Arab Baptist Theological Seminary receiving the training they need to teach people about Jesus and build up the local churches wherever God sends them. This is about students at the SKILD Center receiving the specialized assistance they need to help them learn and grow. It's about the young people who attend Beirut Baptist School and hear about Jesus daily, and those who attend the summer Baptist Children and Youth Ministries camps. It's about discipleship resources being put in the hands of Arabic speaking believers, and daily needs being provided to the poor and refugees. These brothers and sisters would echo the words of Jesus, "My food is to do the will of Him who sent me (John 4:34)."
Love for God and neighbor drives the ministries of our Lebanese partners, and it is our love for these saints that keeps their cause always in our hearts, minds, and prayers. As we enter into this season of thanksgiving and then are reminded of the coming of our Lord, join us in giving thanks for the faithful ministries of our partners in Lebanon. Remember them in your prayers, especially as they face the threat of further political instability and the seemingly overwhelming task of maintaining a ministry presence through volatile situations. As you remember them, please pray how you might identify with them in this cause by giving.
The most significant gift you give this Christmas season COULD be a meal for a Syrian refugee family ($15), or a copy of the Action Bible ($15), or a scholarship for a needy child to attend a Baptist Children's Youth Camp ($165), or a one year scholarship for a student at Arab Baptist Theological Seminary ($9500).
As you plan your 2012 year-end giving, please consider a generous gift to MEBO in support of the ministries of our brothers and sisters in Lebanon who are reaching out in such effective ways.
Happy Thanksgiving and Merry Christmas,
The MEBO Team
David, Teri, Liz, and Andrew