December 13, 2015
Ashley al-Saliby
BEIRUT: Have you considered, recently, the tangible compassion of the Savior whose birth we celebrate during this season? The Gospel accounts reveal that Jesus could always be found where no one else wanted to be: with the marginalized. Whether He was touching a leper, exalting a child, or conversing with a stigmatized Samaritan woman at the well, it is undeniable that He cherishes those whom others despise or ignore.
Jesus also knows what it is to be vulnerable.  He chose to be "made like" us, becoming frail humanity and a fellow "sufferer." Why? To be "merciful," Scripture tells us (Hebrews 2:17-18).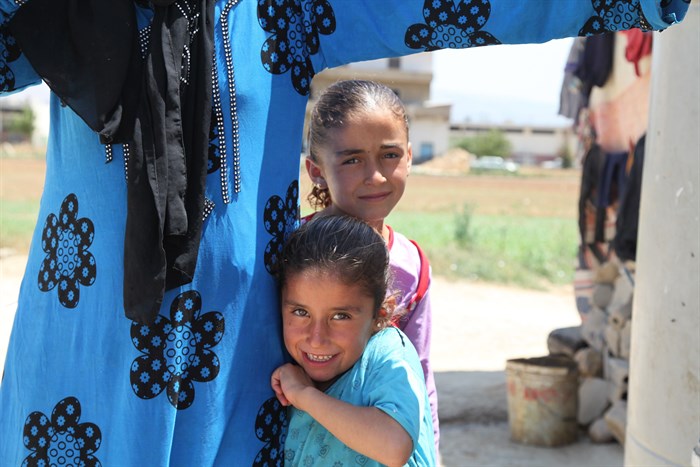 Two Syrian girls stand close to their mother in a refugee camp in Lebanon. (Photo: Angela Wu Howard)
And Jesus, too, was a refugee child. His earthly parents knew the frantic night journey that many have traveled when the security of their homes is replaced by terror and uncertainty. Imagine: Emmanuel, God-with-us, was once small and vulnerable. He dwelt intentionally among the ostracized, and was Himself ultimately rejected. And it's to this demographic, to "the least of these," that He calls His disciples (Matthew 25:34-36).
It's for these reasons that local churches in Lebanon, supported by the Baptist Society there (MEBO's partner, the Lebanese Society for Educational and Social Development), are embracing the most vulnerable and marginalized in practical, compassionate, and innovative ways.
This Christmas, we want to give you the opportunity to join in the work being done by our brothers and sisters in Christ in Lebanon. We've recently told you the story of Ali*, a vulnerable Syrian boy who was the lone survivor of a tragedy that killed his family. He has slowly regained hope and his childhood through a Lebanese, church-based educational project for refugee children called True Vine. We also shared the story of Rana*, whose childhood had been characterized by the pain of marginalization and stigma. She has a learning disability but her teacher, like many teachers in Lebanon, was not trained to recognize or respond to her special needs. Her hopelessness has given way to promise and potential because of the kind intervention of the team at the center for Smart Kids with Individual Learning Differences.
These transformative ministries have tangible, ongoing needs that you can address through your generosity this Christmas season. As you celebrate the birth of Jesus, you can follow Him through compassionate action on behalf of the vulnerable and marginalized. To find out how you can partner to provide meals to refugee children enrolled in the True Vine education project, click here. For details about an opportunity to equip a state-of-the-art therapy room for children with special needs in Lebanon, click here.
And from all of us at MEBO, Merry Christmas! Thank you for your prayer, advocacy, and generosity on behalf of our partners in the Middle East.
*The names of these children have been changed to respect their privacy.