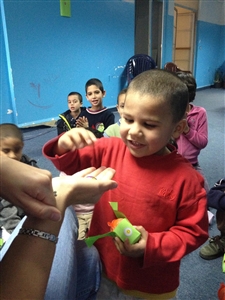 JESUS DIED FOR YOU AND ME!
April 10,2014/Follow-up Event Report/ Vulnerable kids ( ages 2-8)
After worshiping altogether, it was time for the core lesson -the most important story of the entire Bible: Jesus' crucifixion. The kids sat on the floor and were all ears to the story-teller. She started with a few key points saying: "It is the greatest story in history. If we were to erase the crucifixion of Jesus from the pages of the Bible, it would cease to have any meaning at all. What would the world be like if Jesus had never died on the cross? What would your life be like? Miserable? Joyful? Hopeless…?
Not only is it the most important story in the Bible, but also it is the most important fact for us to know." Through it, the kids learned about what happened to Jesus the day He gave His life for us, about the events of the crucifixion, and about Jesus' sufferings on the Cross. Yes! They learned about the unconditional love of God. John 3:16 says, "For God so loved the world…".
Nour, an 8-year-old girl responded to some questions.
Q: What did you learn today?
Nour: I learned that Jesus died for me on the Cross to wash my sins away and without Jesus' death I could not be saved and spend eternity with Him.
Q: Is there a better love story than Jesus' one?
Nour: No. Not at all.
Following the story, all the kids enjoyed decorating their Easter basket.
Finally, chocolate was distributed to the kids after which they received their sandwiches for lunch.
"But He was wounded for our transgressions, He was bruised for our iniquities; the chastisement for our peace was upon Him, and by His stripes we are healed." ISAIAH 53:5