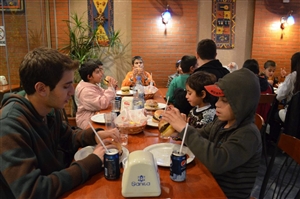 BCYM arranged a Christmas Camp for the first time since its start in 2006. It was held in "Pax Hotel" in Broumana, a beautiful spot in the mountains northeast of Beirut. Eighteen former Street children (ages 8-13), residing in "Home of Hope" center, attended this camp. These precious children were cared for by nine local leaders, eight of whom are volunteers from local Baptist churches, and one is a BCYM staff member.
All eighteen children were treated to a special dinner in a cozy restaurant, then headed to the hotel where they enjoyed an evening full of spiritual and recreational activities.
Most of these children come from broken homes, and had never been told the real meaning of Christmas. The leaders loved sharing the love of Christ with them.
(Photo courtesy of Gladys Haddad Sebali)