May 1, 2015
Chris Hall
The National Day for Students with Learning Difficulties is fast becoming an important date on the educational calendar in Lebanon.
LSESD's Executive Director, Nabil Costa, is calling for the National Day to become a permanent fixture.  Speaking on April 22nd on special needs education at the All for Education conference organised by Ministry of Education and Higher Education (MEHE), Costa called on legislation to make the day compulsory in all schools. "We need to step up the pressure for our deputies, especially the human rights and educational  legislative committees, to raise the voice and succeed in passing a legislation that stipulates that 22 April is the National Day for Students with Learning Difficulties in Lebanon, and that all educational institutions, private and public, are required to observe this occasion by organizing at least one activity on their campus that involve students related to special education needs, and rights and needs of students with learning difficulties," he said.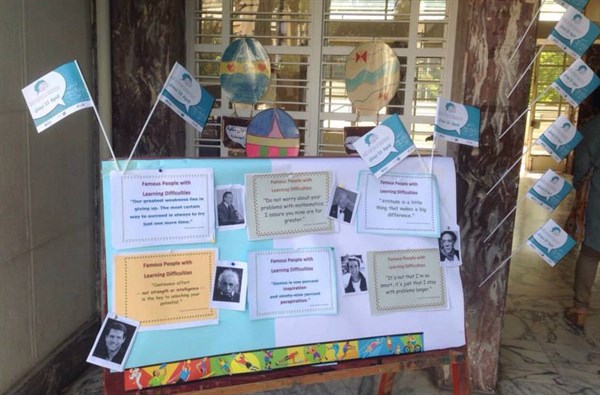 Lebanese schools are promoting, many for the first time, appreciation of those with learning differences

Costa also called for a change in the Lebanese law 220/2000. Rather than being a law specifically about handicapped persons, he recommended it be changed to a law about the rights and needs of individuals with special needs. This modified law would include a requirement for higher education institutions to earmark a budget for setting up a support center for students with special needs and learning difficulties, and for special education needs training to be mandatory in teacher-training colleges.
"We cannot keep on waiting for 'the right time'," Nabil Costa shared at Notre Dame University in Lebanon during the week of the National Day. "We must move faster towards empowering students with special education needs and make available laws and policies so that they have a decent life. It is a crime to see them fall prey to dependency and humiliation, as they move into adulthood."
For the third year running every mobile phone user in the country received a text message on 22 April notifying them that it was the National Day for Students with Learning Difficulties and thanking them for their support.
The initiative to encourage schools to distribute flags with the National Day logo to their students was hugely successful. All of the schools contacted to take part were very receptive. Some schools created a display of flags whilst at other students simply waved them happily.
A week of capacity building workshops were organised at several schools, which included participation from visiting North American professors (see below). Erla Jackett was encouraged by the response of some teachers,  noting that smaller, more intimate groups showed more engagement, while "in larger sessions many teachers sat with stony faces, appeared disinterested," Jackett said. "But this is what research tells us about teacher professional development – they have to hear the message many times in many ways from many sources before buy-in begins."
Indeed, much has been achieved by the National Day, but there is so much more to do so more teachers, parents and school principals across Lebanon engage with the needs of students with learning difficulties and ensure they receive the best education available.
During the week of the National Day for Students with Learning Difficulties, and in partnership with the Consortium of Global Education (CGE), visiting professors in special education from North America took part in capacity building workshops. Here are their thoughts on how their workshops went and on the National Day initiative in Lebanon:
"The most encouraging observation was the keen interest and deep passion many of the administrators shared with us in regards to serving children with special needs. We know that the "buy-in" by administrators is essential to the goal of serving children with special needs. While there are many issues to be addressed by this paradigm shift in service delivery, an administrator who believes in this approach will find ways to make it happen. Thanks for including me in this historic and positive step towards inclusive education in Lebanon."
-Dr David Finn, Director of Special Education, Samford University, Alabama
"Before I became a physician and medical school professor, I had been a school teacher for ten years, including three years as a special education teacher. Now I could put that experience together and talk about helping children with Attention Deficit Hyperactivity Disorder, ADHD. As I travelled with the team to a Druze school, and Muslim and Christian schools, I saw in each location that the people of Lebanon love their children and are working hard to create a better world for them. I saw the desire for peace and the space and ability to live a good life with their families and friends. This was a universal desire. Teachers at each school talked to me of the same exact problems in working with the children.  This was no surprise:  we are all one race, the human race.  I return to my own country praying for your success in our common goal of raising children with a quality education and in peace, even as the region around you is in turmoil.  Be strong.  You have already shown that you are." 
-Dr John M Jones, Chair of Osteopathic Principles and Practice and Professor
of Clinical Sciences, William Carey University, Mississippi
"Although during my time in Beirut, my colleagues and I met with various schools with diverse backgrounds, the outcome was the same. The administration and the faculty were interested in helping the student body, who are in need of extra assistance, in being successful in school. The reception was always gracious and open to new ideas. The teachers were very interested in how to engage the children with dyslexia, as well as those who struggle with reading. The same problems that are found in the United States and Canada are found in Lebanon; children would rather use technology than read a book. The National Day dinner sponsored by SKILD was welcoming and inviting to all attendees. It was a wonderful experience to meet administrators and educators from the different private schools in the area. We are all concerned about our  future leaders of the world, the children, and only want the best for them. The director of SKILD, Hiba Al Jamal,  escorted us to the various schools, interpreted for those who were not comfortable with the English language, and troubleshot any problems that arose. Her enthusiasm and concern for children with special needs is admirable.  My time in Lebanon was too short. I love the people and the country. I look forward to returning and working closely with SKILD."
-Dr Susan Whitcomb, Associate Professor School of Education,
William Carey University, Mississippi
"My teammates were dynamic, engaging and knowledgeable. Our presentations fitted together like parts of a puzzle that was designed by one artist. We quickly integrated information and supported each other. We shared research and  practices in our different settings and this opportunity nurtured our own personal growth as we worked together. School leaders were supportive and some were passionate about the work. Some audiences were really keen, constantly nodding and asking questions."
-Dr Erla Jackett, Vice Principal, Peel District School Board  Ontario, Canada