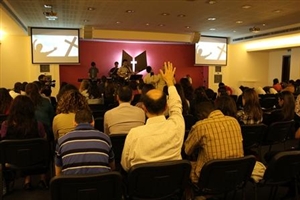 You may not have noticed, but Lebanon was in the headlines again recently. It did not last long, and quickly was replaced by all the news and sound bytes surrounding last Monday night's Presidential Debate, but October 19th the violence in Syria spilled across the border as a car bomb exploded in Beirut's mostly Christian Ashrafiyeh area. The bomb killed at least eight and wounded nearly eighty. The apparent target was senior Lebanese intelligence official Wissam al-Hassan who was an outspoken opponent of Syria who was responsible for uncovering Syrian operations inside Lebanon, including an assassination and a bomb plot.
The Lebanese people have expressed a wide variety of emotions in response to the bombing and assassination. Tensions ran high, and accusations were made. The military was put on alert and clashed with small groups of armed demonstrators. The government is trying to calm the storm, urging a cautious approach to the situation.
Meanwhile, our Lebanese Baptist brothers and sisters are calling for us to pray. MEBO Board Vice President and Lebanese Baptist Society President Nabil Costa stated the following on the day after the bombing:
"[The situation in Lebanon] continues to be fragile with heightened emotions.We feel sad, outraged, afraid, and angry. As humans we cannot help but have these feelings. We thought our country had turned a new page, yet once again evil hands are back to haunt us."
As the bomb went off, "children were returning home from school, many employees returning from their work, or people were running errands. The level of destruction is unbelievable; families lost loved ones, casualties are lying in hospitals, with many in critical condition. [It}is [a]catastrophe especially that all of these families belong to the lower middle class or middle class and they are 90 percent not insured."
Costa, who also serves as Vice President of the Baptist World Alliance, has called on Christians around the world to pray for peace in Lebanon. Lebanon has a recent history of unrest – a civil war from 1975 to 1990, the assassination of the Prime Minister in 2005, and the 34-day war between Hezzbollah and Israel in 2006 – but our Baptist friends continue with their dedication to their work and to pray for stability. With the current crisis with Syrian refugees, for Lebanon to be dragged into their own conflict could be disastrous and could lead to a far greater humanitarian crisis. We urge you to please pray for Lebanon during this time and make others aware of this great need!