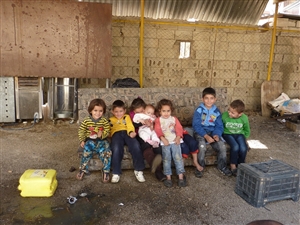 MEBO recently learned from an anonymous donor of their intent to offer a generous matching gift for the work of ABTS and Syrian relief. We are absolutely thrilled to share this opportunity with you and encourage you to share this news with your friends, your church's missions team and any others who are eager to find ways to bless the church in the Middle East and North Africa. It's an amazing opportunity to add capacity to TWO worthy ministries in Lebanon at the same time!
Here are the quick details of this matching gift:
For each dollar given for Syrian relief work up to $100,000, funds will be matched at 100% with an equal gift to ABTS (Arab Baptist Theological Seminary).
Syrian Relief Funds are being used by our Lebanese partners to serve as many of the 225,000+ refugees in Lebanon as possible; funds are also being carefully distributed within Syria to as many of the 2,000,000+ people as possible who are displaced by the ongoing civil war.
MEBO will update our partners regularly on this goal via our newsletter.
Please take a minute to read MEBO Chairman, Dr. Todd Bradley's, update on the Syrian crisis (The Urgency of Syrian Relief). This provides a vivid snapshot of the current crisis and how your prayers and gifts are powerful in the hands of our great God. Throughout Scripture we are called to care for the powerless, the victims, the marginalized, the destitute. We are likewise called to share all we have with the people of God. Please stand with MEBO today and make a statement about the love and mercy of our God with your prayers and gifts.